Un appareil à la forme étrange pris par William A. Rhodes le 7 juillet 1947, avec un appareil photo plain Brownie, à Phoenix (Arizona). L'ovni fut décrit comme faisant entre 20 et 30 pieds de diamètre, voyageant à une vitesse de 100 miles/h, à une altitude de 1000 à 2000 pieds i

[Projet Blue Book - USAF]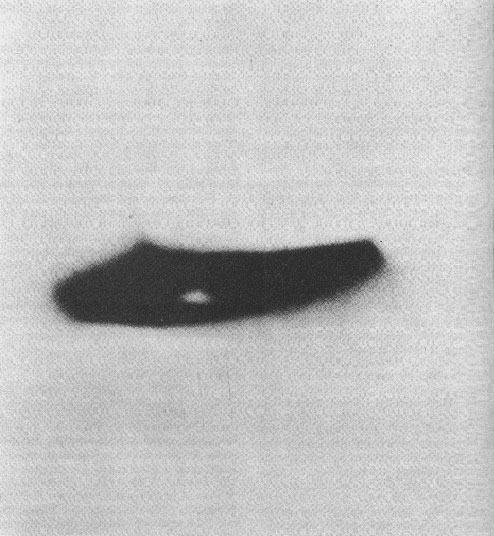 We had our most bitter arguments with the "fans," as we called the believers. They believed in saucers with a passion that made a reasonable discussion almost hopeless.
Once I talked to a well-known psychiatrist about this. He was a non-believer.
"Look," I said, "I can understand how a man like Arnold feels strongly about the existence of saucers. He saw some-thing. I can understand why anyone who has seen something that he can't explain will argue for the existence of space ships. Such a theory gives him an answer to a personal riddle. But why do thousands of people who have never seen a saucer swear that they exist?"
"I think they want to believe in saucers from another planet," he said. "The will-to-believe is a powerful thing, and it edits out reality. Visitation from another planet is a fascinating idea.
"The world we live in is becoming a place of increasingly unbearable tensions. The threat of atomic destruction hangs over us all, and we are losing faith in the invincible intelligence of man. In eight long years, the best brains on earth have frustrated each other in removing the spectre of mass destruction of whole nations. "If the saucers were real, if they came from outer space, what vistas they would open up! So far they have shown no menace. Whatever controlled them would be of a higher intelligence, since we are only beginning to fumble with the problem of space travel.
So to people living humdrum and menaced lives, they hold out bright adventure that might remake the world. Man is doing a poor job, so we bring into being something better than man.
En plusieurs des simples croyants, il y avait les cultists et les excentriques. Les cultists avaient des clubs, sociétés, associations, badges, conventions et publications spéciales, et préchaient la soucoupe comme un musulman dévot prêche sa croyance en Allah.
Selon leur dogme inébranlable, l'Air Force cache la vérité sur les soucoupes de peur de paniquer le public. Des chambres-fortes secrètes à Dayton débordant d'observations sensationnelles, d'authentiques photos de près et de merveilleux films de soucoupes, dont beaucoup en Kodachrome. Chaque fois qu'une soucoupe atterrit ou s'écrase, des équipes d'enquêteurs tight-lipped rush out, scoop up the saucer or the pieces et le cart it off dans un laboratoire secret. Dans le même temps leurs collègues se précipitent dans les journaux, montrent leurs badges au rédacteur-en-chef et anéantissent l'histoire.
Tout le monde sait que le capitaine Mantell a été descendu par une soucoupe géante ? son corps était riddled de balles (version A) et son avion was scored with mystérieuses "lignes de force" (version B). Le projet a Dayton a des salles pleines de petits hommes, marinant dans l'alcool, qui ont atterri dans le Colorado ou l'Arizona ou l'Oregon et sont morts en respirant notre oxygène inhabituel. Généralement les petits hommes sont verts, bien que certains aient été cuits jusqu'à un brun croquant lorsque notre atmosphère a transformé leur soucoupe en un toaster incandescent.
Les soucoupes qui ne transportent pas de petits hommes sont pilotées par des monstres. Et pas de questions, s'il-vous-plait, pour savoir si les petits hommes et les monstres sont des frères de sang ou de simples cousins.
Chaque élément de ce catalogue d'absurdités a été raconté comme la stricte vérité.
Le culte est nourri par un petit groupe de literary procurers se saisissant de toute observation et la traitant pour être consommée. Ils dépouillent tout signalement de toute information orientant vers une explication naturelle. Ils drop off all qualifying data. Ils omettent l'analyse ? sauf lorsque le projet admet franchement être dérouté. Puis ils présentent le résidu comme un fait vérifié sorti droit des fichiers de Blue Book. Une variante populaire de ceci est sorti des archives de l'Air Force.
Dans les scriptures of the cultist, toute chose signalée à Blue Book est une soucoupe. Le signalement effectif pourrait décrire l'ovni comme une lumière de 6 pouces de diamètre, une boule de 2 fois la taille de la Lune, un point noir dans le ciel, un blip étrange sur un écran radar, un objet en forme de cône, une vague lueur dans le ciel, un figure en forme de cigare, ou un éclat de lumière comme la queue d'une comète. Ces objets dissemblables sont tous convertis, en une chiquenaude de machine à écrire, en soucoupes.
Toutes les estimations d'altitude, de vitesse et de manoeuvres sont traitées comme cold fact. Si un voyageur de commerce, roulant le long d'une route à 65 miles/h, regarde en l'air et voir quelque chose traverser le ciel à ce qu'il suppose être 20 miles de haut et 8000 miles à l'heure, le récit soucoupique sort comme ceci :
A 15 h 17, le 12 août 1953, à 4 miles à l'ouest de Dubuque, dans l'Iowa, Joseph Doakes, un homme d'affaires, vit une soucoupe voyageant à 8000 miles/h à 20 miles au-dessus du sol. Doakes, un homme d'excéllente réputation qui ne boit pas, rapporta, "Je n'ai jamais rien vu de tel." L'Air Force analysa l'observation et fut totalement déroutée.
Il y a quelques mois, à Hollywood, je parlais avec Frank Scully dont le livre Behind the Flying Saucers went through ten editions and sent a shining, silvery chain of disc-shaped dollars spinning at supersonic speeds into Scully's bank account. I was ribbing him about a couple of Southern California characters who were outdoing each other-and Scully-with fantastic saucer stories. One wrote a book about a citizen from Venus who landed his saucer in the California desert and had a long conversation with the author. Character No. Two topped that one with a yarn about riding on a saucer to a hitherto unknown planet named Clarion, whose female residents presumably are known as Clarionettes.
Scully, the staid old scientist who first put the story of the "little men from the saucers" between book covers, was appalled at such "irresponsible stories." He complained bitterly about "the lunatic fringe invading the saucer business," which gives a rough idea of the prevailing standards. The cultists are nearing the limits imposed by the law of diminishing returns. About the only sensation left for an author trying to break into the racket is to have his book delivered by little green men riding bona fide saucers with Venusian license plates.
The cultists watched the operation of Blue Book like suspicious wives eyeing wayward husbands. Everything that we did-or failed to do-had significance. If we investigated a flamboyant "little men" hoax, it was because we knew there are little men and were trying to keep the secret bottled up. If we ignored the story, we were playing a shrewd game of poker and cloaking the truth with a show of contempt. The cultists even used to analyze our facial expressions at press conferences. I usually made a "bland show of unconcern."
Once one of the project's technical advisers made the mistake of lapsing into mild satire in his report. In considering the saucers-from-space theory, he noted that there had been speculation that some of the UFO's behaved like animals. 'There are few reliable reports," he commented dryly, "of extraterrestrial animals." This quip was pounced on by the cult as an enormously significant slip-up in our great conspiracy to hide the truth, and became an "official Air Force admission that some of the saucers carried beings from outer space." Raymond Palmer, a science-fiction publisher, and Kenneth Arnold, in their book The Coming of the Saucers, reprint this passage and exult: "But those lew, gentlemen! Those few! Where did you get them?"
Such experiences tended to make us cautious in our public announcements, and we tiptoed on verbal eggs. This, of course, was taken by the cultists to be further evidence of Operation Cover-up.
The saucer project attracted screw-balls in droves. On gentleman, who was a plasterer through the week and the shepherd for some off-beat religious sect on Sunday, telephoned me incessantly until I gave him an appointment. He was a tall, hollow-eyed fellow who looked like an undertaker down on his luck. A sister in his flock had solved the riddle of the saucers. She had it all written out, with citations from the Bible as documentation, and he clutched the historic document tightly and kept a wary eye on me. All he wanted for it was $15,000 cash.
I told him, as gently as possible, that the government didn't hand out that kind of money for a saucer in the poke.
"All right, mister," he said, "I'll tell you what the saucers are. But you'll have to put the cash on the barrelhead to find out how Sister Betty figured it out."
He took a deep breath. "The saucers are four angels dancing in a circle."
He grew surly when I didn't haul out a roll of crisp $100 bills, fresh from the U.S. Treasury, and start counting them out for him.
"What's the matter, mister?" he asked. "Doesn't the Air Force want to solve this problem?"
I got off the hook by telling him that our budget had been cut and that he could make more with Sister's secret peddling it to one of the big national magazines. He went off with a gleam in his eye.
Then there were the letters. They went into a special file with the cryptic notation "C. P."-for crackpot. We got them by the hundreds.
From Campbell, Ohio, a gentleman offered us "spectrograms of saucer lights"-at a price-and warned us that he was selling "to the highest bidder, domestic or foreign." "These spectrograms are protected against forceable seizure," he noted tersely, "and I would not recommend such action on your part."
From Long Beach, Calif., a woman wrote us a long series of letters about saucers "touching" her day and night. "They also nip your toes," she complained. "They just make you sick."
My favorite was from a gentleman who signed himself "Uncle Sam's Most Unique Booster." He offered us three working saucers in exchange for train fare from California to Dayton. "I fly them by changing the potential energy in centrifugal force to a kinetic energy of 33 pounds to the square inch in the form of a jet propulsion," he wrote. "Roll that around your attic." His saucers were powered by vacuum cleaner motors. If we weren't interested in them, he had an atomic machine "that makes yours look sick," and a helicopter that folded up into a suitcase.
Obscured by the hoaxes, distorted by the literary charlatans who hail every vagrant light as a verified space ship, the case for the flying saucer rests on the inexplicable instances that have cropped up year after year since 1947.
In 1952, we extracted the best sightings from the files to see what kind of sense we could make from them. These represented the cream of the reports and most of them had come through military channels. This meant that they either had been made by military personnel or had undergone a preliminary check at the point of origin.
Of the 2,199 sightings, 434-19.7 percent-were listed as unknown. Among them were sightings reported by scientists and veteran pilots of excellent reputation, many of whom had been scornful disbelievers until they had sighted their saucers. These reports included instances of flight performance and maneuvers be-bond the abilities of any known craft.
In addition to the Black Hills, South Dakota, case which I've already described, here are some of the cases that the project was unable to crack:
INCIDENT NO. 2-On July 29, 1952, near Port Huron, Mich., two F-94s were in the air making night practice runs on a B-25. A radar station in the vicinity picked up an unknown object and asked one of the planes to investigate. The jet went up to 20,000 feet where the pilot spotted the object visually. He started to chase it, and the fleeing UFO and the pursuing jet both showed up on the radar scope, which tracked the chase. The jet pilot switched on his gun radar, got an automatic lock-on. The object easily kept out in front of the jet, even when the pilot kicked on his afterburner. Our investigation showed that there were no other planes in the vicinity, and the double radar verification ruled out planets, stars, reflections, hallucinations.
INCIDENT NO. 3~n July 24, 1952, two Air Force colonels stationed at the Pentagon were en route in a B-25 from Hamilton AFB to Colorado Springs. They were flying at 11,000 feet near Carson Sink, Nev. It was 3:40 p.m. on a calm, clear day with unlimited visibility. Suddenly they sighted three silver objects shaped like arrowheads approaching them at terrific speed. The objects first appeared at the 1 o'clock position and passed the B-25 in a continuous bank. The two colonels both observed the three strange objects carefully and were positive that they were no craft that they had ever seen before. They estimated their size at about that of an F-86, and their distance at the point of passage at between 400 and 800 yards. Both men reported that the objects had a "definite ridge along the top," and had sharply defined outlines. Neither man was a flying saucer believer.
INCIDENT NO. 4-On January 28, 1953, at 9:35 p.m., a jet pilot near Albany, Ga., spotted "an extremely bright light" at 10 o'clock high. At first he thought it was another aircraft or an unusually bright star, but when he went up to 10,000 feet it appeared to be ahead and a bit below him. When first spotted, the light was white, but later it began changing constantly from white to orange and back to white. The object was in view for 17 minutes. In the last 15 seconds it changed shape from circular to triangular, and then the triangles split into two triangles-one immediately above the other-and both disappeared as if someone snapped off a light.
The pilot called Albany, Ga., but before he could make his amazed report, ground asked him if he had seen anything unusual. They advised him that ground radar had picked up both his jet and a strange target. On the radar scope, when the jet had speeded up, the target had stepped up, too, to maintain its lead on him.
INCIDENT NO. 5-Shortly before midnight on August 5, 1952, two airmen were walking toward the tower at Haneda AFB in Japan to begin their shift when they spotted a large round object bearing a light in the sky. Hurrying to the tower, they pointed it out to the other tower operators, and they took turns observing the object through 7x50 binoculars. Under the glasses, a less brilliant light could be seen around the edge of the object. The tower people called radar and gave them a bearing on the thing, and radar picked up a target in the immediate area. By correlating movement of the radar target and the visual UFO, they established that they were both observing the same object. The radar tracked the object at speeds varying from hovering to 300 knots. An F-94 was scrambled and vectored into the target. It got a radar lock-on and started to close on the object. At 6,000 yards, the jet lost radar contact and at the same time the tower and ground radar lost it, too. At the end of the sighting, the object as seen on the ground radar "broke up into three pieces which flew formation at quarter-mile intervals." During the incident, a weather balloon was released at the base, and the witnesses reported that its light was much dimmer than that of the UFO. One of the puzzling aspects of the incident was that neither the jet pilot nor the radar crew was able to get a visual sighting on the object, although each was closer to it than the air base tower.
INCIDENT NO. 6-On the night of January 26, 1953, a group of Air Force people stationed at a radar site in New Mexico observed a "very bright, reddish-white" object west of their station and then picked it up on their radar. The object was in view for 45 minutes both visually and by radar and once moved behind a hill and then reappeared. Radar showed it 9 miles from the station, traveling north at a lazy 12 to 15 knots, at 10,000 to 15,000 feet. Although a balloon was in the vicinity, the UFO traveled steadily almost directly into the wind.
INCIDENT NO. 7~n February 16, 1953, at 11:30p.m., a pilot and an instructor in a C-47 over Turnagain Arm - bay near Anchorage, Alaska-saw a red light that they judged to be a jet aircraft, five miles away. But as they watched it, it got bigger and brighter, as if headed toward them. Unable to see any green navigation light, they asked the tower at Elmendorf AFB if any other craft were in the area. The tower said there was none, and then made a radar check with negative results. The object was first seen low and definitely below the horizon. The C-47 was flying at 2,000 feet. The object continued to close on the C-47, increasing in brilliance and size until it was two or three times the original size. Then it seemed to stop and hang suspended for five minutes. The pilots, still thinking it might be another aircraft, headed toward Elmendorf, where the tower asked them if they still could see the light. It was still visible, and the tower asked them to try to intercept it. As the C47 took up the chase, the light appeared to accelerate and shortly vanished.
The following night, about 8 p.m., five Air Police on patrol spotted the same-or another-red light near the end of one of the Elmendorf runways. By comparing it with known lights at the base, they judged it to be similar to a 36-inch light seen from ~/s mile away. It was in a gradual climb, at about jet speed, headed for Anchorage. The Air Police called the tower. It had nothing on radar, but ordered up a jet to intercept. As the jet became airborne, the object showed a noticeable increase in speed, and when the jet came around to get on an intercept course, the light climbed vertically into the overcast at 5,500 feet.
The Air Police did not know of the original sighting when they made their report. A careful check showed no balloons in the area. Stars and planets were eliminated because the first night the.object was below the horizon, and the second night there was a solid overcast. If it had been a conventional craft, the radar should have picked it up. If it had been a stray balloon that wandered in from some distance, on the first night the C-47 should easily have closed on it and passed it. On the second night, its sudden vertical rise disposed of the drifting balloon theory.
These cases, and the hundreds more like them, are the core of the flying saucer mystery. Despite our best efforts over a period of seven years-assisted by top-grade technical and scientific advisers-we were unable to crack them. They remain to baffle and intrigue millions. And despite the improvement in methods of analysis that has resulted from our experience, scores of unknowns are added fo the project's files each year.
Hundreds of people have asked me, "What do you think, yourself?"
The job of~roject Blue Book was fact-finding, not speculation. Our investigation of the saucer sightings was aimed at compiling as much firm data as we could, in the hope that it would provide the basis for analysis that would answer the seven-year mystery. The project failed in this attempt. The mystery of the saucers is still as baffling as it was the day that Kenneth Arnold landed his plane and told the story of what he had seen near Mt. Rainier.
My own opinion is that either the saucers are interplanetary or they do not exist. I do not believe that there is enough evidence at hand to choose between these alternatives. You can argue either case indefinitely, and in the end you will have only an opinion.
In the operation of Blue Book, we briefed a number of assemblies of scientists-guided missile experts, atomic people, experimental aircraft technicians, physicists, etc. We found them intensely interested in the saucer mystery. At Los Alamos, for example, we jammed an amphitheater with standees and answered questions for three hours after we concluded our briefing.
These people were trained in the scientific attitude, as opposed to the cultists who accept every wild-eyed report as a certified, gold-seal fact. Among them were people who had seen things that they could not explain. They were eager for facts that would help them put their experience into perspective.
These are the facts upon which I think that any responsible conclusion about them must be based:
I. To my knowledge, the Air Force has not concealed any secret sensations about the saucers. In the earliest days of the investigation, the project was secret. There was considerable alarm then, and some officials thought that the objects might be something new from Russia. As the alarm waned, the information was declassified. Whatever secrecy has been thrown around subsequent incidents has been only to protect classified information-precise locations of radar stations, performance data on jet fighters, etc. We also protected the identity of informants who wished to remain anonymous. We did this to encourage people of standing to feel free to report any incredible incident. Reyond these exceptions, the Air Force knows nothing about the subject that it is not telling.
2. Project Blue Book was given no orders from above about "handling the saucer problem." The story that we were a bunch of dupes, reciting whatever the top echelons told us to say, is a lot of nonsense. We briefed the echelons above us, not vice versa. I once made a personal report to Secretary for Air Thomas Fin-letter at the Pentagon. He was accompanied by a full squad of advisers and technicians. He thanked me when I was through.! gave him no information that is not in this account.
3. We had no evidence whatever that the saucers are some supersecret U. S. development. On the contrary, we had specific disclaimers of this from top Air Force, Army, Navy and Department of Defense officials. Ordinary horse sense is against this theory. If the U.S. has flying saucers that can perform the way saucersighters describe them, why would the government be pouring billions of dollars into conventional - and inferior -planes?
4. We also had no evidence that the saucers are of foreign manufacture. Again, logic opposes such a belief. The chief suspect in the "foreign saucer" theory is Russia. Why would Russia try out such a revolutionary device over the U. S. when it has vast stretches of land behind the Iron Curtain, where the test could be conducted in complete secrecy? Any man-made device is certain to fail sooner or later. The more complex the device, the higher the failure probability. Yet in seven years, with thousands of saucer sightings, not one has been known to have crashed.
These four points may bring you to the possibility that the saucers are craft from outer space. As staggering as the implications may be, to my mind this is the most acceptable theory-if the saucers exist. There is no other alternative.
What is the argument that they are nonexistent? It has some stubborn facts on its side.
First, the residue of unknowns shows no common characteristics. Their shapes, performances, times of appearance, colors, locations showed the same bewildering variety as the 80 percent that we were able to explain. The 434 unknowns included little lights, big lights, multicolored lights, discs seen by day, cigar shapes, orbs and dots of lights. To argue that the hard core of unknowns are all "saucers is inaccurate. They include a variety of dissimilar objects. This variety gives strength to the theory that the unknowns are merely the same known objects as the 80 % of sightings we were able to explain. There is a strong belief in the Air Force that the unknowns are "unknown" only because we lacked sufficient data on them. This belief is supported by the fact that our percentage of explanations rose with the intensity of our investigation.
Secondly, there were no bursts of unknowns. Over the years, they roughly followed the total number of sightings, rising and falling with the volume of reports. In general, there was no geographic clustering of unknowns. For a time, there were more sightings around certain atomic installations and defense areas. This concentration was not large enough, in our opinion, to have significance. Residents of such areas are more security conscious than people living in a nonsensitive area, and quite possibly we got more sightings from atomic and defense sections because more people there were scanning the skies.
Some theorists have figured that another planet sending emissaries to the earth would dispatch them at the point where their orbit would bring them closest to earth. Assuming a set travel time, this would bring their craft into our ken at a regular time. For several years there was a sharp rise in saucer reports during the month of July. But in 1953, the sightings in the month took a sharp drop.
Thirdly, in the seven years there has been no physical evidence of the existence of saucers. The Air Force has found no evidence that a saucer has ever crashed or landed. It has seen no photographic evidence that it can credit. It has seen no "hardware" that it cannot explain as man-made.
Against these arguments stands the testimony of hundreds of people. They have seen something incredible. They indude hundreds of people who scoffed at flying saucers until they saw something that bore no relation to anything they had ever seen. They include hard-bitten airmen familiar with all the hallucinations of flying, sober scientists who applied every natural explanation - and stubbornly insisted, "It was something else."
Among these sightings have been a small number that have been confirmed by radar. Whatever the object was, it was not hallucination. And frequently, it outperformed any craft known on earth.
The fact that the unknowns show a variety of shapes and sizes might be explained by 2 things. One is the unreliability of witnesses. A saucer described as '50 feet in diameter" may be 150 feet -if it is farther from the observer than he believes. The variety in sizes of the unknowns could be explained by misjudgments in distance, a common error. If more accurate data were available, the unknowns might well show a greater consistency in size.
The same is true of shapes. A disc traveling broadside to the witness would appear to be an orb. As. its angle tilted, it would become football-shaped and finally take on the appearance of a cigare.
The sightings of lights at night may have no relevance to the actual size of be craft that carries them-just as a navigation light on a plane gives no hint to the size of the ship.
The absence of physical evidence-such as crashed saucers-supports the theory that they are not of this world. We have reliable data on the failure actor of man-made devices. If the saucers were made by Americans or Russians, their imperfections would have brought them down by now. But if they re interplanetary, they may be contrived by a civilization so far advanced as to have reduced the probability of failure to near zero. Or they may utilize a principle of flight unknown to us. A craft capable of traversing the vast distances of space might fly almost endlessly in the relatively tiny confines of our air envelope without failure.
The Air Force has never ruled out the possibility that we are being visited from outer space. It says only that it has no evidence to support this possibility.
- Capitaine Edward J. Ruppelt, USAFR