It's UFO time again, and there are those who believe that if a little creature with wrinkled skin and pointy ears swoops out of the sky and lands at your feet, you'd better smile and say howdy because it's an emissary from an "extraterrestial civilization."
There have been a number of recent sightings of strange flying objects in California, Louisiana, Arkansas, Missouri, Illinois, Ohio, Mississippi, Texas and Georgia, and some people, mostly those who have done the sighting, are beginning to get concerned.
A woman in New Orleans said she saw something shaped like the Houston Astrodome hover over her home.
The Air Force chief of staff said UFOs touched off fighting during the Vietnam war, and even the Russians have been hearing things from outer space.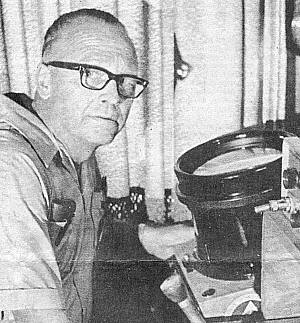 The Tass News Agency said Soviet scientists are hearing unusual radio signals -- never heard before -- coming in pulses after definite lapses of time, lasting for several minutes and being repeated several times a day.
"It is not precluded that they may be sent by a technically developed extraterrestial civilization," the Russian report said.
Two Pascagoula shipyard workers said they were hustled aboard a blue, fish-shaped craft by three weird creatures who gave them the once-over with an eye-like scanning device. And they're going to take lie detector tests to prove it.
At Pine, La., sheriff's deputies chased five orange-reddish flying objects 12 miles through the woods.
Pilots at the Raleigh County Airport at Beckley, W.Va., saw a mysterious night flyer that turned red, then green, then white.
"Where they are coming from and why they were here is a matter of conjecture," said Northwestern University astronomer Dr. Allen Hynek. "But the fact that they were here on this planet is beyond a reasonable doubt."
Dr. Robert O'Connell, an LSU astrophysicist, disagrees with Hynek.
"There's probably some mundane explanation for the ones right now and for probably any UFOs," he said.
O'Connell said he was skeptical of most UFO reports, especially the Pascagoula case.
"I don't necessarily dispute what they're saying," he said. "It could be a hoax. The hoax could be on two levels: the people themselves or somebody else carrying out a hoax.
"This area (of UFO reports) is notorious for hoaxes."
In Chicago, U.S. Air Force Chief of Staff Gen. George S. Brown told a news conference Tuesday UFOs were reported in Vietnam during the war and even triggered an air-sea battle near the Demilitarized Zone in 1968 in which an Australian destroyer was hit.
"I don't know if this story has ever been told," Brown told a news conference, but they (UFOs) "plagued us in Vietnam during the war."
"I think it's nothing," Brown said, "I think it is atmospherics."
Dozens of UFOs were again reported by citizens and police officers in southern and central Ohio Tuesday night including a woman who said three UFO's forced her car off a roadway. The objects, mostly described as orange in color, were reported in several areas including Columbus, Coshocton in east-central Ohio, and in the southwestern part of the state at Middletown and Greenfield.