Vague de reflux, 10 juillet et après
Avec à peine plus d'une douzaine d'observations le 10 juillet, la vague d'ovnis de 1947 s'était presque complètement éteinte. Peu ou pas de signalements ne furent relayés par les services de dépêches. Les concentrations de signalements s'étaient broken up, bien qu'il y ait eu 4 observations apiece pour le Colorado et Washington. La plupart des signalements ce jour-là venaient toujours des états de l'ouest, avec 2 dans l'Idaho, et 1 chacun pour l'Arizona et le Nouveau Mexique. L'observation du Nouveau Mexique, faite par Lincoln La Paz, est listée dans les fichiers de l'Air Force comme Non-Identifiée (3-19).
Les fichiers de l'Air Force contiennent aussi 2 rapports d'observations, les 10 et 11 juillet, à Codroy, dans le Newfoundland. Aucunes notes ne furent faites sur ceux-ci, mais aucun d'entre eux n'est listé comme Non-Identifié. D'autres signalements le 11 juillet furent faits en Floride et à Indianapolis, dans l'Indiana. Le 12 juillet, 2 observations furent faites à Boise, dans l'Idaho, et à Seattle, several Naval sentries at Sand Point Naval Air Station reported seeing a single object at about the same time that an independent report of 3 objects was made elsewhere in the city (3-6). 2 more sightings occurred in Seattle the next day, and a disc was reported seen by a businessman and his wife in Gardner, Massachusetts (3-1). Le 15 juillet, un représentant du Civil Aeronautics Board, survolant Concord, en Californie, fit l'observation air-air de 3 groupes d'objets faisant des embardées (3-13).
Après mi-juillet, le nombre d'pbservations tomba à une moyenne de 1 par jour environ. Entre le 16 et le 19 juillet, il n'y eut aucun signalement d'observation retrouvé dans les documents qui furent examinés (un examen complet des références de journaux pour la période du 16 au 30 juillet ne fut pas entrepris, et l'information pour cette période est donc fragmentaire).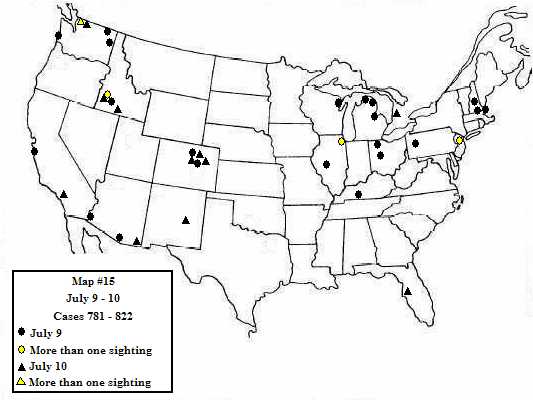 Les fichiers de l'Air Force contiennent un autre signalement dans le Newfoundland le 20 juillet, décrivant une série d'éclairs rougeâtres vus dans un ciel couvert. L'explication donnée pour ce cas est un bolide, bien qu'une photographie montrerait un trou que l'objet aurait fait en passant à travers les nuages. Des lumières clignotantes furent vues à Meriden, dans le Connecticut, le 22 juillet, et entre le 20 et le 30 juillet, l'Idaho fut la scène d'au moins une demi-douzaine d'autres signalements d'observations. Une de celles-ci, une observation air-air faite le 28 juillet par 2 autres pilotes des United Air Lines au-dessus du Mont Home, fut reprise par les services de dépêches (3-13). Le 29 juillet un autre pilote militaire rapporta avoir vu 2 disques près du Terrain de Hamilton, en Californie ; le rapport de ce capitaine des Army Air Corps fut classé comme Non-Identifiépar l'Air Force (3-5).
Earlier on the same day still another air-to-air sighting was made, this time of a large group of small discs over Union, Oregon. The observer was Kenneth Arnold, and the UFO wave had come full circle (3-14).
By August the 1947 UFO wave was history. Ruppelt writes that "by the end of July 1947 the security lid was down tight. The few members of the press who did inquire about what the Air Force was doing got the same treatment that you would get today if you inquired about the number of thermonuclear weapons stock-piled "in the U.S.'s atomic arsenal (p. 39)." According to Ruppelt, no one had any idea what was going on relative to UFOs behind the barbed wire enclosing the Air Technical Intelligence Center at Wright Field. Suspicion-breeding secrecy seems to have been the policy from the very beginning.
During July more that seven hundred specific sightings had been made, with more than two hundred taking place in the three Pacific states alone. UFOs had been seen by thousands of North American citizens in every walk of life. (Sightings were not confined to North America, however; reports had appeared from such widely scattered locations as China, South Africa, France, South America and Iran.) But by the end of July, no more news reports of strange aerial visitors appeared in the press, outside of a small item buried in a local newspaper somewhere. To the satisfaction of many, the objects had departed and their existence amounted to nothing more than a rather unsettling memory. There was but one more flying saucer story to gain wide attention in the press -- an elaborate hoax that ended up in tragedy.