Demande de l'enquête de l'USAF sur Exeter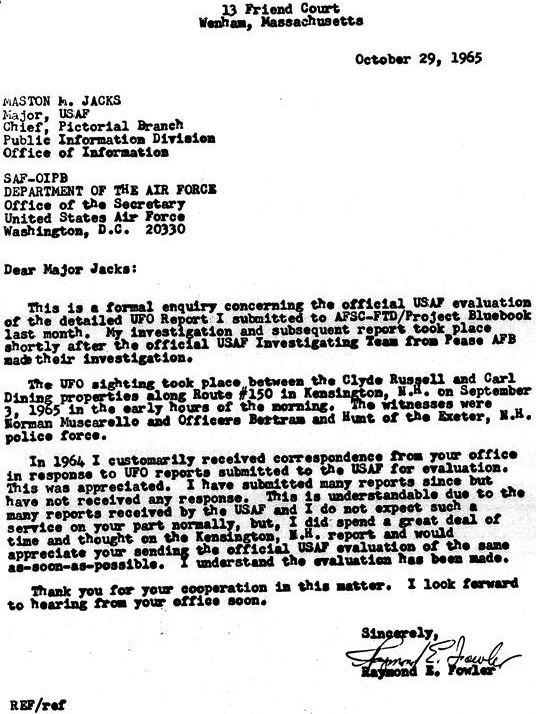 13 friend Court
Wenham, Massachusetts
MASTON to. JACKS
Major, USAF
Chief, Pictorial Branch
Public Information Division
Office of Information
SAF-OIPB
DEPARTMENT OF THE AIR FORCE
Office of the Secretary
United States Air Force
Washington, B.C. 20330
Cher Major Jacks,
Ceci est une demande formelle concernant l'évaluation officielle de l'USAF du rapport d'observations d'ovni que j'ai soumis à l'AFSC-FTD/Projet Bluebook le mois dernier. Mon enquête et le rapport qui s'ensuivit furent réalisé peu après que l'équipe d'enquête officielle de l'USAF de la base aérienne de Pease ait réalisé son investigation.
The UFO sighting took place between the Clyde Russell and Carl Dining properties along Route #150 in Kensington, H. N. on September 3, 1965 in the early hours of the morning. The witnesses were Korean Muscarello and Officers Bertrand and Hunt ef the Exeter, N. H. police force.
In 1964 I customarily received correspondence trcm your office in response to UFO reports submitted to the USAF for evaluation. This was appreciated. I have submitted many reports since but have not received any response. This is understandable due to the many reports received by the USAF and I do not expect such a service on your part normally, but, I did spent a great deal of time and thought on the Kensington, N. H. report and would appreciate your sending the official USAF evaluation of the same as-soon-as-possible. I understand the evaluation has been made.
Thank you for your cooperation in this matter. I look forward to hearing tram your office soon.
REF/ref