Un journaliste doute que l'ovni soit un canular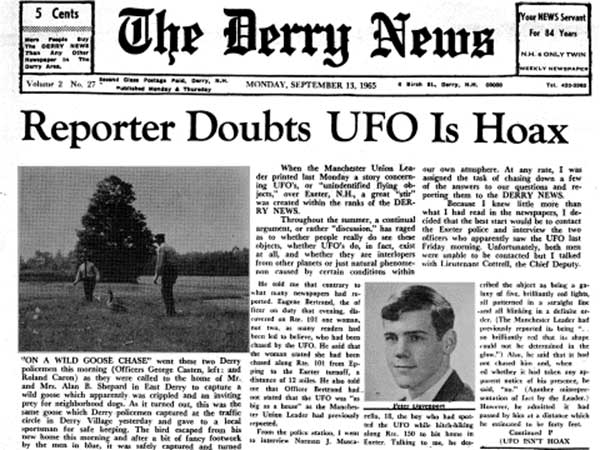 Lorsque le Manchester Union Leader publia Lundi dernier un récit concernant des ovnis, ou "objets volants non identifiés," au-dessus d'Exeter (New Hampshire), a great "stir" was created within the ranks of the DERRY NEWS.
Throughout the summer, a continual argument, or rather "discussion," has raged as to whether people really do see those objects, whether UFO's do, in fact, exist at all, and whether they are interlopers from other planets or just natural phenomenon caused by certain conditions within our own atmosphere. At any rate, I was assigned the task of chasing down a few of the answers to our questions and reporting them to the DERRY NEWS.
Because I knew little more than what I had read in the newspapers, I decided that the best start would be to contact the Exeter police and interview the two officers who apparently saw the UFO last Friday morning. Unfortunately, both men were unable to be contacted but I talked with Lieutenant Coettrell, the Chief Deputy.
He told me that contrary to what many newspapers had reported, Eugene Bertrand, the officer on duty that evening, discovered on Road 150 one woman, ... ... as many readers had been led to believe, who had been chased by the UFO. He said that the woman stated she had been chased along Road 150 from Eping to the Exeter tunaff, distance of 12 miles. He also told me that Officer Bertrand had laso stated that the UFO was as big as a house as the Manchester Union Leader had previously reported.
From the police station, I was to interview Norman J. Muscarello, 18, the boy who had reported the UFO while bike-riding alon Road 150 so he xxx in Exeter. Talking to me, he described the object as being a galaxy of five, brilliantly red lights, all gathered in a straight line and all blinking in a delusive ertler. (The Manchester Leader had previously reported it being ...a brilliantly red that in shape could not be determined in the glow). Also, he said that he had been chased him red, where as whether he had taken any apparent notice of his presence, he said "no." (Another misrepresentation of fact by the Leader.) However, he admitted he had passed by fake as a distance which he estimated to be forty feet. (Continued)