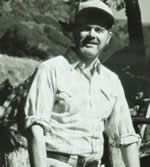 "Ron" Westrum naît le vendredi 23 novembre 1945 à Chicago (Illinois). Il entre à l'Université de Harvard dont il obtient un Bachelor of Arts en 1966. Il étudie la sociologie à l'Université de Chicago où il obtient un doctorat en 1972 1Westrum, R. M.: Communication Systems and Social Change, 1972? - Thèse de doctorat 21976 MUFON Symposium Proceedings, MUFON, 1976.

Il devient professeur associé de sociologie au département de sociologie de l'Université du Michigan Oriental. Il dirige avec Marcello Truzzi
la revue Zetetic Scholar consacrée à la sociologie des "anomalies". Axé sur la sociologie des sciences et de techniques, Westrum est consultant à ce titre lors de plusieurs conférences de l'OTAN.
En 1992, Westrum écrit The Ropper Poll avec David Jacobs
et Budd Hopkins
(fondation Intruders), un rapport sur des expériences inhabituelles avec des enlèvements ovnis, basé sur l'étude de l'organisation Roper sur 5947 américains adultes.
3Westrum, R. M.: "Social Intelligence about Anomalies: The Case of UFOs", Social Studies of Science, vol. 7, n° 3, août 1977, pp. 271-302 4Westrum, R. M.: "Science and Social Intelligence about Anomalies: The Case of Meteorites", Social Studies of Science, vol. 8, n° 4, 461-493, 1978 5Westrum, R. M.: "Witnesses of UFOs and other anomalies" in Haines, Richard Foster: UFO phenomena and the behavioral scientist - Metuchen, NJ; London : Scarecrow Press, 1979. - xiv, 450 s. : ill. 6Westrum, R. M.: "Speculations on the UFO Experience / Harold A. Cahn. - UFO reporting dynamics", UFO phenomena and the behavioral scientist de Haines - Metuchen, NJ; London : Scarecrow Press, 1979. - xiv, 450 s. : ill. 7Westrum, R. M.: 8The Promise Of Ufology", Frontiers of Science, novembre/décembre 1980 9Westrum, R. M. & Hopkins, B. & Jacobs, D.: Unusual Personal Experiences: An Analysis of the Data from 3 National Surveys. Las Vegas: Bigelow Holding Corporation, 1991 10Westrum, R. M.: Limited Access: Six Natural Scientists and the UFO Phenomenon in Ufos and abductions : Challenging the borders of knowledge / edité par Jacobs : Lawrence, KS : University Press of Kansas, 2000. – 384 s. - ISBN 0-7006-1032-4