Kelley, Frank: Herald Tribune , 21 février 1956
L'article d'origine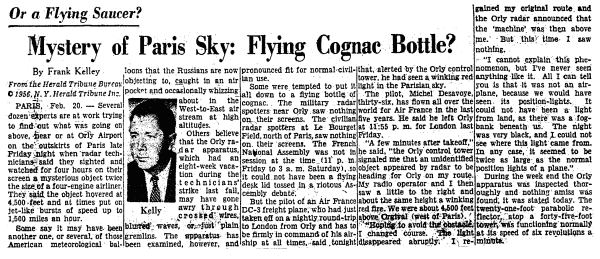 Or a Flying Saucer?
Paris, 20 février -- Plusieurs douzaines d'experts sont au travail en train d'essayer de chercher ce qui se passait là-haut, près de ou à l'aéroport d'Orly à la périphérie de Paris tard dans la nuit de vendredi lorsque des techniciens radar ont dit avoir vu et observé pendant des heures sur leur écran un objet mystérieux du double de la taille d'un avion de ligne quadrimoteur. Ils ont dit que l'objet est resté en survol à 4500 pieds et parfois put on jet-like bursts of speed up to 1.500 miles an hour.
Some say it may have been another one, or several, of those American meteorological balloons that the Russians are now objecting to, caught in an air pocket and occasionally whizzing about in the West-to-East airstream at high altitudes.
Others believe that the Orly radar apparatus which had an eight weeks vacation during the technicians strike last fall, may have gone awry through crossed wires, blurred wave or just plain gremlins. The apparatus has been examined, however, and pronounced fit to normal civilian use.
Some were tempted to put it all down to a flying bottle of cognac. The military radar spotters near Orly saw noting on their screens. The civilian radar spotters at Le Bourget Field, north of Paris, saw nothing on their screens. The French National Assembly was not in session at the time (11 p.m. Friday to 3 a.m. Saturday) so it could not have been a flying desk lid tossed in a riotous Assembly debate.
But the pilot of an Air France DC-3 freight plane, who had just taken off on a nightly round-trip to London from Orly and has to be firmly in command of his airship at all times, said tonight that, alerted by the Orly control tower, he has seen a winking red light in the Parisian sky.
The pilot, Michel Desavoye, thirty-six, has flown all over the world for Air France in the last five years. He said he left Orly at 11:55 p.m. for London last Friday.
"A few minutes after takeoff," he said, "the Orly control tower signaled me that an unidentified flying object appeared by radar to be heading for Orly on my route. My radio operator and I then saw a little to the right and about the same height a winking red fire. We were about 4.500 feet above Orgival (west of Paris).
"Hoping to avoid the obstacle, I changed course. The light disappeared abruptly. I regained my original route and the Orly radar announced that the 'machine' was then above me. But this time I saw nothing.
"I cannot explain this phenomenon, but I've never seen anything like it. All I can tell you is that it was not an airplane, because we would have seen its position lights. It could not have been a light from land, as there was a fog bank beneath us. The night was very black, and I could not see where this light came from. In any case, it seemed to be twice as large as the normal position lights of a plane."
During the week end the Orly apparatus was inspected thoroughly and nothing amiss was found, it was stated today. The twenty-one-foot parabolic reflector, atop a forty-five-foot tower, was functioning normally at its speed of six revolutions a minute.